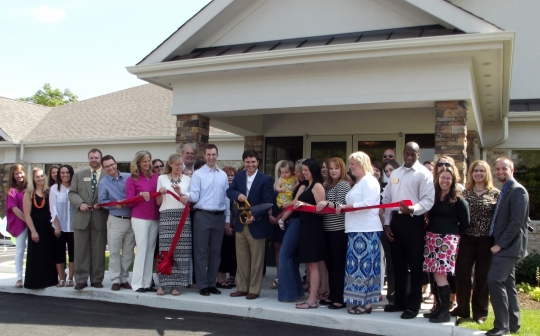 May 17 2015
LYNCHBURG, VA May 14, 2015 – A growing dental practice welcomed community members and business leaders to an official ribbon cutting and open house. Lynchburg Dental Center (LDC) not only celebrated a 40th anniversary this past year, but they also broke ground on a new facility. The ribbon cutting celebrated the opening of the new practice.
Dr. Carrington Crawford, practice owner, welcomed guests and staff to the event. The building was under construction this past winter and began seeing patients in mid December, just a few miles from the previous location on Old Forest Road.
LDC has been serving the needs of patients in the greater Lynchburg area since 1974. As dental technology has improved and evolved, so have the services offered to their growing patient base.
"We have recently added another doctor, assistants, and more advanced equipment. We need additional square footage to provide our patients convenience while continuing our high-quality, comprehensive dental care," explains Carrington Crawford, D.D.S and owner of Lynchburg Dental Center.
The expanding team at LDC has a mission to serve each of their patients with the most sophisticated technology to achieve optimal results. Dr. Crawford adds, "Our team is very experienced. We continuously further our education to bring our patients the latest advancements and to provide maximum comfort. Our new facility will help us accomplish just that."
"We have called on the experts at Henry Schein Design Group to maximize every square foot and offer our patients modern conveniences and our staff ease of workflow," shares Crawford. The new building provides state-of-the-art operatories with an intentional focus on patient assurance.
Lynchburg Dental Center continues to offer comprehensive exams, hygiene services, treatment of periodontal (gum) disease, extractions, implants, fillings, oral surgery, whitening, and crown and bridge work. In addition, they feature digital radiography and screenings for oral cancer.
The LDC team is also experienced in other sophisticated, cosmetic and restorative procedures. Specifically, they offer same-day crowns with the use of state-of-the art CAD/CAM technology—allowing patients ultimate convenience. Also, advanced restorative procedures, such as implants, offer LDC patients an opportunity to greatly improve their smile.
For additional information, please visit: www.lynhchburgdentist.com