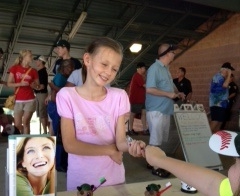 Jun 01 2016
LYNCHBURG, VA June 1, 2016 – Lynchburg Dental Center (LDC) has been supporting the greater Lynchburg community for over four decades.
One such area of contribution is supporting the Lynchburg Hillcats. The Hill City's minor league baseball team is a farm team of the Cleveland Indians. Every summer, both adults and youth flock to the Calvin Falwell Field to cheer on their team and enjoy a soda and hotdog. Adding to the stadium's ambiance, Southpaw, the team's mascot, is there to greet every fan.
Again this year, Lynchburg Dental Center is the official sponsor of the Hillcats Kids Club. Those joining Southpaw's Kids Club will receive a membership card, free admission to all home games, run the home bases after Tuesday home games, and exclusive "meet and greet" autographs. 
LDC also sponsors a toothbrush give-away educating kids of all ages the importance of routine dental care. Additionally, bobble-head toothbrush holders and drawings for school supply filled backpacks have made the young fans smile and parents nod with approval.
For additional information for game promotions, please visit the Hillcats official website: www.milb.com