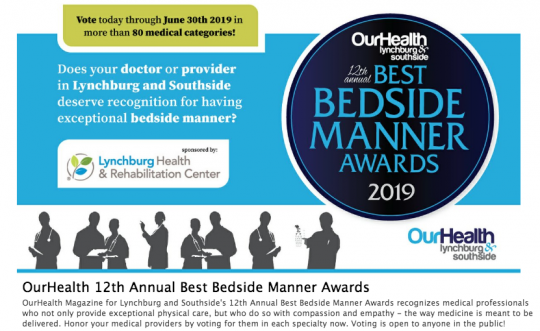 Jun 07 2019
LYNCHBURG, VA June 7, 2019 – Lynchburg Dental Center's team of doctors and dental professionals feel honored to have been the recipients of the OurHealth Magazine's Best Bedside Manner Award for multiple years in a row.  Vote this year.
"We take great pride in treating each and every patient like they are the only one in the office in any given appointment. Our entire team works to provide quality care with a compassionate spirit for our patients," remarks Dr. Crawford.
Carrington Crawford DDS, Karen Kenny DDS, and Brad Lenz DMD know what makes a dental practice successful. Continuing education brings the most advanced technology to the office and incredible results for patients. However, it is the care, patience, and time given to every patient that has this team on the Best Bedside Manner list every year.
Lynchburg Dental Center patients can place their votes again this year by simply going to the OurHealth Magazine link and choosing Lynchburg/Southside. Votes can be placed until June 30th.
Lynchburg/Southside
General Dentistry or Cosmetic Dentistry
Carrington Crawford, DDS