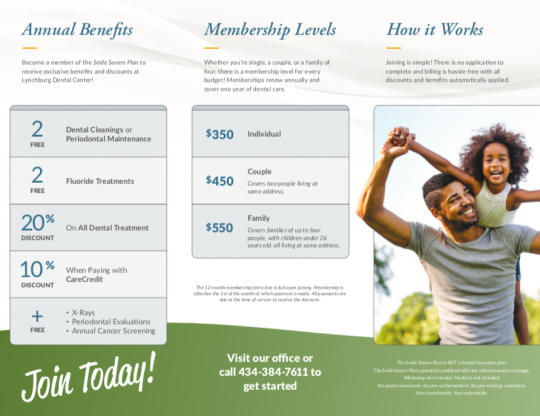 Jun 01 2022
LYNCHBURG, VA June 1, 2022 — The Smiles Saver Plan provides significant discounts and savings through a simple patient-focused payment program. Lynchburg Dental Center launched the new in-office initiative to provide alternative payment plans for individuals, couples, and families.
There is no application or fees to sign up. Simply call the office at 434-384-7611 and ask to be enrolled in the membership level that suits your needs best. Then, future appointments and billing is made easy with discounts automatically applied.
Preventative care is important to maintain oral health and prevent cavities and periodontal disease. Take advantage of the opportunities Lynchburg Dental Center offers to help make superior dental care accessible to you and your family.
Existing dental savings plans will be honored until the plan year expires. At that time, patients can convert to the new Smile Savers program. Lynchburg Dental Center is committed to ensuring confident, healthy smiles.